tbinv.com
User Form
Maintains info on users of the database.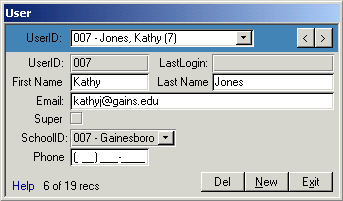 To open the form:
Click Table, select User and click edit.
To find a record:
Select the UserID in the combo box or PgDn to the user. As a Super user, you can add or delete users or grant them Super privileges. You cannot delete your own record or remove yourself Super status. You can only change your own password. If somebody forgets a password, a Super user can delete the user and recreate the record with a new password. Super users can see all reports and forms for any school. User access is designed for school level and below. The School combo box on the main menu is locked to the school you set on the User form. On the User form, users can click Setup to see all users, their contact info and school, but can only change their own email, phone and password.
Note:
When a user is added or deleted, the MDW version is changed and everybody on the network will be offered an update of that file when they login. Click Ver on the main menu to ensure your .MDW file is current before changing the user table.
Close
Sitemap