tbinv.com
School Loss Form
Tracks recovery and payment for lost, damaged and worn out books.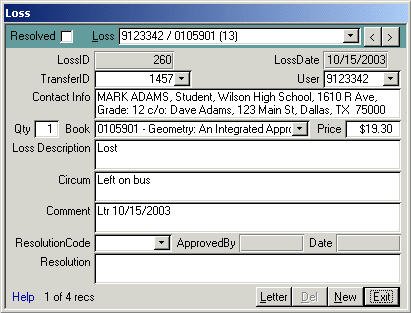 To open the form:
Click Table, select Loss and click Edit.
To find a record:
Select the UserID/BookCode(BookID) from the combo box or PgDn to scroll through the records. Click
New
to create a new record. Select the TransferID that assigned responsibility for the book to the user. This will automatically complete the User combo, contact info, book and price. You can change the fields as required. Verify the Qty and enter the Loss Description, Circumstances and Comment. ResolutionCodes are: Cancel, Found, NormalWear, Paid, Replaced, WriteOff and blank. The record is timestamped when you select a resolution code. You can enter additional information about the payment in the Resolution field. To view a loss letter to parents for this loss, click
Loss
. The letter will be logged in the comment field. Click File, Print at the top of the screen to print the letter.
Close
Sitemap